5 Startup Trends that Shaped the Midwest in 2018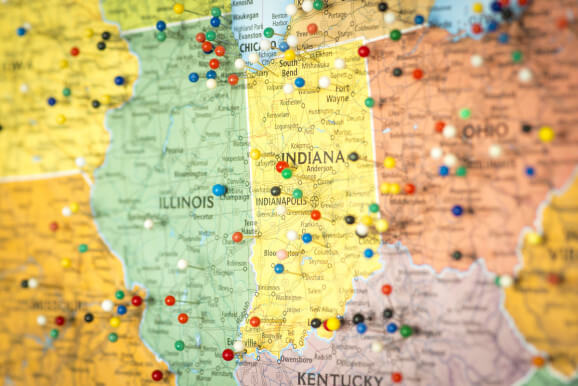 2018 is quickly drawing to its close, but the Midwest's venture capital activity is still buzzing. Just this week, celebrity shoutout marketplace startup Cameo announced that it closed a $12.5 million round of funding led by Lightspeed Venture Partners. Cameo's round is one of several marketplace startups to gain strength this year, which highlights a broader trend that the Midwest saw in 2018. The prompted me to review the 2018 investment activity and exits the region has seen across the Midwest — defined here as Illinois, Indiana, Ohio, Michigan, and Wisconsin — and five clear trends emerged that will carry us into 2019.
1. Marketplaces remain one of the strongest tech sectors
Cameo may be the first social media marketplace in the Midwest, but it is certainly not the first marketplace startup to get traction. Chicago in particular has a storied history in successful marketplace plays like Cars.com, Apartments.com, and Groupon. Moreover, several repeat founders are building marketplace startups that saw significant traction and funding in 2018.
Among those startups is Grubhub cofounder Mike Evans' new company Fixer, an on-demand handyman service marketplace that raised $4 million this year, led by Founder Collective. Sam Yagan, who founded OkCupid (which was acquired by Match.com), returned to lead ShopRunner, a marketplace that connects top retailers to online shoppers. Last month, ShopRunner announced its $30 million funding, which was led by August Capital. Another major marketplace funding this year went to enterprise software marketplace startup G2 Crowd, which raised a $55 million series C led by IVP. The founders of G2 Crowd previously founded Big Machines and Steelbrick, which were acquired by Oracle and Salesforce respectively.
The Midwest's marketplace traction is not exclusive to Chicago, however. Michigan's StockX, a marketplace for buying and selling items like sneakers and watches, received a $44 million round of funding, which is one of the 10 largest rounds the Midwest saw this year.
As one of the Midwest's original technology strengths, marketplace success and future exits in this sector should be ongoing for the years to come.
2. Health care gets even hotter
As in 2017, health care continues to be another popular area for investment in the Midwest. In fact, of the top 50 funding rounds in the Midwest this year, 29 were in health care companies creating new technology for managing health care, new drugs, and/or new treatment methodologies.
We see this activity across different stages of success. The first- and third-largest 2018 funding deals in health care went to Chicago-based Tempus, which in total raised nearly $200 million this year (with rounds led by Baillie Gifford and T. Rowe Price, respectively) to collect and analyze large volumes of molecular and clinical data. Indiana's On Target Laboratories, which uses targeted fluorescent dyes to improve outcomes in cancer surgeries, closed a $44 million round of funding. On the earlier side of the fundraising spectrum is Michigan's BlueWillow Biologics, which develops vaccines that are designed to prevent respiratory disease. BlueWillow raised a $10 million series A this year, led by North Coast Technology Investors.
While these investments are key in signaling the Midwest's strength in health care, what solidifies it is the clip of big health care exits that we saw this year. Pharmacann, a medical cannabis cultivation center in Chicago, was acquired by MedMen for $682 million. Minnesota's NxThera, which developed a urological medical device, was also acquired for $406 million.
Among these exits were also a couple of health care IPOs in Chicago. Aptinyx, which develops drugs for disorders of the brain and nervous system, saw an IPO valued at $509 million. Xeris Pharmaceuticals, which innovates in injection therapies, had an IPO of $315 million.
Home to some of the best hospitals in the country, the Midwest is a prime location for continued health care investment. As more of these companies gain traction, I anticipate that the Midwest will see even more health care exits and emerging startups in the months and years to come.
3. Logistics keeps on truckin'
With a strong history of logistics expertise and success in companies like CH Robinson and Echo Global Logistics, it is not surprising that the middle of the country continues to drive innovation in how objects move throughout the world.
Three of the largest rounds of funding raised by Chicago startups were in logistics this year. Top VCs across the country are looking to the Midwest for innovation in this space, and they have found it. Project44 closed a $45 million round led by OpenView, ShipBob* closed a $40 million led by Menlo Ventures, and FourKites* closed a $35 million round led by August Capital. Project44 and FourKites are innovating on end-to-end predictive supply chain visibility, while ShipBob enables small to medium business to offer Amazon Prime-like shipping speeds to their customers.
While the Midwest has not seen a major logistics exit since Coyote Logistics' $1.8 billion acquisition in 2015 by UPS, we can surely anticipate new — and potentially big — movement in this space in the coming years.
4. Big bets on enterprise software continue
The enterprise software market continues to innovate and expand, with new startups helping businesses to optimize their operations and create more successful work environments. With that innovation — and the Midwest's close proximity to a huge swath of Fortune 500 companies — has come notable funding.
Indiana's Scale Computing, which uses virtualization and data analysis to help IT administrators scale their operations, closed a $21 million round that was led by Lenovo. That was one of the largest rounds, but machine learning is a key driving force behind the next wave of enterprise software in the Midwest.
On the forefront of this machine learning wave are Chicago's Catalytic* and Logicgate. Both startups closed rounds in 2018. Catalytic's was led by NEA, while Logicgate's was led by Jump Capital and High Alpha Capital. These startups' new funding will help them further enable businesses to leverage automation that improves and scales company performance.
The largest enterprise exit this year was Ceridian, a Minnesota-based human resources software platform that had an IPO valued at $2.8 billion. Notable among enterprise acquisitions this year is Michigan's Duo Security, which creates enterprise cybersecurity software. Cisco acquired Duo for $2.35 billion, taking Michigan's first unicorn startup and turning it into the Midwest's largest acquisition of 2018 — and one of the largest startup acquisitions in the country this year. Chicago also saw an acquisition in this space. CloudCraze was acquired (for an undisclosed amount) by Salesforce, which is looking to expand its Chicago presence and become one of the city's largest offices.
5. Consumers drive new insurance models
While just six funding rounds in the Midwest this year went to the insurance technology sector, three of them were among the top ten deals. This signals an emerging Midwest trend in insurance technology — in how consumers purchase insurance and in how much they pay for it.
Like Tempus in the health care sector, two of those large rounds went to a single unicorn: Ohio's Root. Root is an automotive insurance startup that uses mobile device analytics and data science to weed out high-risk drivers and provide coverage only for good drivers, who in turn get more affordable insurance rates.
The Midwest's insurance innovation is not exclusive to the automotive industry, however. Minnesota's Bind offers on-demand health insurance, which captured the interest of investors to the tune of a $70 million funding round this year.
While we have not yet seen insurance technology exits in the Midwest, the increasing rate of venture capital funding going to insurance startups in the Midwest is promising for future success. American Family Insurance, based in Wisconsin, recently led a $11.5 million round in Chicago's *Clearcover, Meanwhile, Chicago's Kin Insurance, which allows people to purchase homeowners insurance with less friction, raised a $13 million round over the summer.
There is good reason to believe that this trend will root itself in the Midwest for some time.
* indicates my firm, Hyde Park Angels, is an investor
Originally featured in VentureBeat.