How Chicago Fuels Food-Focused Innovation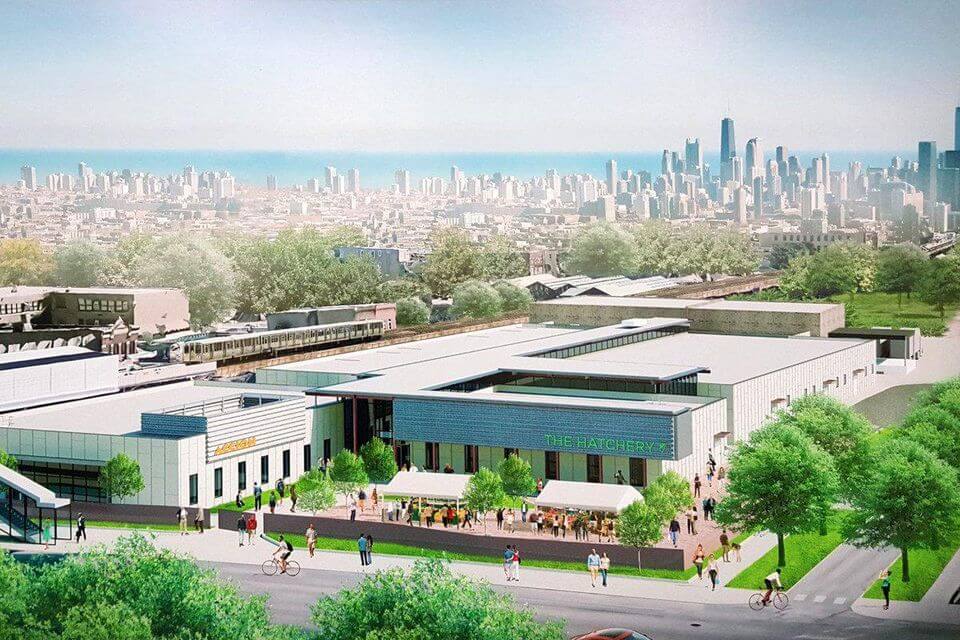 Today, Chicago's newest food business accelerator, The Hatchery, will celebrate its grand opening. A non-profit incubator supported by companies like Conagra and Kellogg's, The Hatchery will support entrepreneurs in growing successful food- and beverage-based businesses. The incubator's launch marks the city's newest development in a long history of food-based entrepreneurial support, the likes of which spans business development assistance, food-focused venture funding, and innovation-supporting events.
While The Hatchery is the city's newest hub of food entrepreneurship, it's certainly not the first. familyfarmed has been leading in this space for more than 20 years. The organization is about to graduate its fifth cohort of the Good Food Accelerator, which includes partners like Whole Foods and KeHE. Meanwhile, familyfarmed's Good Food Financing and Innovation Conference is about to celebrate its 10th anniversary. Taking what he's learned to the next level, familyfarmed's CEO and founder Jim Slama is partnering with other leaders to launch Naturally Chicago, a natural foods entrepreneurship program.
Similar to Slama, in 2015, the CEO of McDonald's, Don Thompson, left his post to form Cleveland Avenue. Applying his expertise in the food space, Cleveland Avenue serves as both an accelerator and investment fund for some of the most innovative food startups, such as Beyond Meat and Farmer's Fridge. Just last month, Cleveland Avenue led a $12 million round in San Francisco-based corporate catering startup ZeroCater.
Not all change makers are leaving the corporate world altogether to focus on food innovation, however. Rather, corporations are increasingly investing in food innovation and entrepreneurship themselves. For example, Chicago-based Mars-Wrigley's President of Global Business Development Keith Levy oversees innovation and growth for the Mars-Wrigley Confectionary, which took a big stake in Kind in 2017. Mars also created a new food accelerator called Seeds of Change to help fast-track early-stage food businesses that are transforming how people eat.
Although many of these organizations are focused on supporting entrepreneurship in food innovation through physical spaces, many Chicago corporations focus their efforts on supporting outside food innovation through Chicago-based corporate venture capital (CVC) arms. Earlier this month, Kraft Heinz's new CVC arm, Chicago-based Evolv Ventures, announced its first investment in a food startup. This $25 million Series C investment in San Francisco's GrubMarket is significant and further illustrates that Chicago venture capital strengthens startups on the coasts, as well as those in our own ecosystem.
Similarly, while Tyson Foods is headquartered in Arkansas, the company opted to launch its CVC arm, Tyson Ventures, in Chicago in 2016. This $150 million fund was dedicated to innovation in agriculture technology, alternative protein sources, and other food sustainability practices that will help shape the future of food consumption. It also helped build on the momentum of Chicago's strength in food-based entrepreneurship.
A more recent example of corporate investment was last month when Chicago's Valor Equity Partners received a $100 million commitment from Starbucks to anchor the firm's new food-focused fund. Valor, which invests heavily in technology and food based-companies like WowBao and Fooda, has been a steady hand in Chicago's food venture scene.
Finally, Chicago also boasts traditional venture firms that are purely focused on food investing. S2G Ventures, which has offices both here and in California, invests in food and agriculture companies that innovate to meet the shifting consumer demands for healthy and sustainable food. Earlier this year, S2G led a $50 million round in Boston-based GreenLight BioSciences, a startup that develops RNA solutions for plants, animals, and humans without damaging the environment. The Managing Director of S2G is Chuck Templeton, the founder of Chicago's OpenTable and one of the first Board Members of Grubhub.
Another key Chicago-based food and agriculture investment firm is Cultivian Sandbox Ventures. Like S2G, Cultivian is laser-focused on investing in companies that solve the need for increased food production and sustainability. Just this month, the firm announced that it had closed its third fund at a whopping $135 million, bringing their total raised to nearly $300 million. One of the startups that recently got investment from Cultivian is San Francisco-based Phylagen, a company that digitizes catalogues of dirt, soil, dust, and other materials that have unique genetic footprints impacting the colonies in which they live — and the food that grows around them.
With decades of support for entrepreneurs in the space, Chicago has proven itself to be a continually-growing hotbed of food innovation investment. From launching accelerators, to hosting industry conferences, to leading late-stage investment rounds from coast-to-coast, Chicago's a driving force in increasing good-for-you and sustainable food that will help businesses new and old evolve to meet consumer — and planetary — needs.
Originally featured in Forbes.