Podcast: Developing Product and Hiring Technical Talent with John Higginson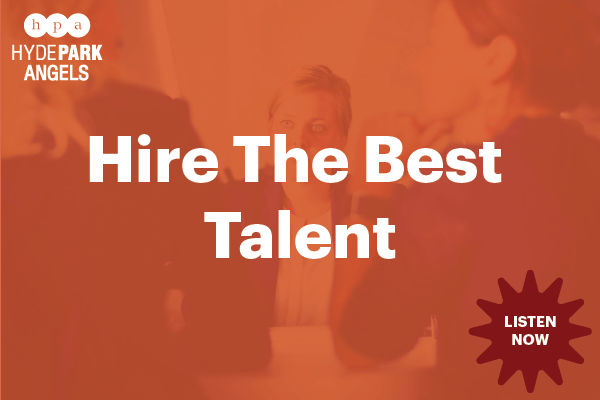 People First is the Hyde Park Angels podcast dedicated to deconstructing entrepreneurial success into actionable takeaways you can use today. Hyde Park Angels is the most active early-stage investor in Chicago with a commitment to taking a "people-first approach" to investing. By matching our members' expertise with entrepreneurs' needs, we help develop top-performing companies that are delivering extraordinary results. Episode 2 features serial technology leader John Higginson. 
John Higginson, technology strategy industry expert and Chief Technology Officer at Enova International, joins HPA on our latest PeopleFirst podcast to discuss how he built his impeccable technology career, and focuses on key takeaways technology leaders at all stages in all size companies can use ti create results. Among his many insights, John covers: 
How to identify people who will help build your company long term (not just start it)

How to choose technical team members based off of how they learn and adapt over their specific skills

How to facilitate a discussion of ideas with your team members
Listen to Cultivating Curiosity to Develop Product and Tips for Hiring Technical Talent – John Higginson
Transcript
Peter Wilkins (P): John, would you like to go ahead and introduce yourself?
John Higginson (J): Hey, good afternoon, Pete. My name is John Higginson. I'm the Chief Technology Officer at Enova international, here in Chicago
P: Listeners, we are excited to be able to spend some time with John. He's had a remarkable career. John, it would be helpful if you could share your background with us.
J: When I first graduated from college, I was living at home, and I interviewed not too far away. It was about a half hour from my house in the suburbs, and the company was working out of the owner's house; it was a startup. They were doing insurance technology at a time when insurance technology ran on giant mainframe computers. I really liked what they were doing; that they were trying to change this industry where everybody had been doing something the same way for a long time. It was funny because I lived at home and my mom had worked very hard to put me through school, and she just thought of offices as having a blue suit, red tie dress code. So I avoided for a very long time what the office really was. But eventually she eventually got it out of me that this office was a raised ranch home, and I'm sure at that point she thought that I had thrown away my budding career. That company was Applied Systems, and I was at it for 14 years. We grew it from a startup to a company that was incredibly disruptive in that industry. There were so many firsts for that company: the first to not have to run on big iron computing, the first to do real-time transactions of any kind in the industry, the first to mobile, the first to the web. It taught me a whole lot about how to grow at a company and how to grow with the company. I began as an engineer and ended up running technology there. It also taught me a lot about how to scale a company. I remember the first time we had an insurance brokerage that was more than 20 simultaneous users.
P: For the listeners, for Applied Systems, what was its core service when it was really rocking and rolling?
J: Our main mission was software for insurance brokerages. It began with mom-and-pop shops and then it morphed into one of the biggest insurance brokerages in the world. We entered, at the time, what was a fairly crowded market for automation in insurance; there were 17 competitors when we began but when we sold the company in 2004 there were 3. We gobbled-up a lot of that market share to get there. As we grew, we had to figure out how to expand into other countries. We had to figure out how to support thousands of customers instead of hundreds of customers even when technologies changed. There's a saying in the valley about getting from 0 to 1. Right, like getting started. But a lot of companies struggle with getting from one to two because the skills that get you off the ground with an idea are not always the same skills that get you to a bigger thriving growing company.
P: I think what's going to be great for our listeners is that you're going to be talking not only about what you've done with Applied but also what you've done with other companies. So, as you continued down your career path there was a little detour that took you away from technology.
J: Yeah! So, I was with applied for 14 years and it was privately held but eventually we got big enough and the owner began to think about what he wanted to do next. He had decided that he wanted to step away from the business but he didn't actually feel that he could step away from it if he still owned it, so we actually put together a team and did a roadshow. We talked to 15 different companies and it was interesting because we had to try to sell this company to people that really knew nothing about the industry. The good news is that we eventually sold the company for about $330M in 2004. So, this provided an inflection point for me where I really got to ask what I wanted to do next with my life, and you know some people when they take time off they go to Fiji…
P: Which is nice, by the way.
J: When I took time off, I went to law school because I was very fascinated by the intersection of technology since I had run across that frequently at Applied Systems. When I was just finishing school, I got a call for a company here in Chicago called FTD – the flower company. FTD was a company in the beginnings of its own reinvention. FTD is an old company in one part, the company that provides materials to florists is about 100 years old, but the ecommerce part of the company was only 9 years old. So when they were trying to merge these two parts of the company, the problem that they had was that the technology platforms were very, very different. In some cases wholly inadequate for the mission of the company.
The thing about FTD was they were really the first online gifting site, they were one of the very first sites to launch in 1995 where users could go online and order gifts and have them delivered. That was a continuing very real opportunity beyond flowers but also with other types of gifts. Most of the company's EBITDA came from the florists and selling flowers and vases and technology. In most cases, though, the technology had really been left alone even when there was such tremendous growth opportunity. The day I started, I was walking around and I noticed that every order that FTD took went through a mainframe. And I had just spent 14 years at a company killing mainframes. So I get here and asked who was maintaining this mainframe and he pointed over at 3 folks who were in the corner who had all announced their intention to retire in the next couple of years. So I looked over at him and said "That's a problem, right?" and he responded "Yeah." I asked him "What are we doing about it?" and he said "That's why you're here."
P: I'd like to dig into that John. Could you talk about your career path moving forward?
J: At FTD I originally joined as the Head of Engineering and worked on both revitalizing the ecommerce platform and the technology we used for our florists. I moved from that to running all of technology. I was actually the first CTO of the combined company.
P: What is the next thing that happened in your career?
J: Well I started to think about where I would go next, so I went to work for a company here in the Chicago area called Wheels. Wheels is a multi-billion dollar managed services company for vehicle fleets. Everything they do is delivered through technology; they are connected to repair networks, to fuel networks, as well as tools for the drivers themselves. For example, we built video games to teach driver safety, because as you might imagine, learning the rules of the road is not the thing that people get super excited about so we tried to make it fun and competitive for them.
P: How did Wheels.com turn out for you?
J: Wheels was good! It was similar to FTD in that it had been around for about 75 years before I came to it, and it was a change to really revitalize and revamp the underlying technology. I was at Wheels for about a year, but I was really hungry for what the next challenge would be. Then I got a call for a company called Enova. It had been a startup that recently spun off from its parent company and was in the process of going public, and they were looking for a CTO and somebody who could help the company scale.
P: So for your audience of entrepreneurs trying to go from zero to one and from one to two, what do they need to start thinking about as they go through that process from a technologist's viewpoint?
J: One of the earliest lessons that I learned was that once you get to a certain point, you have to think about what you don't have. You have a core team that will get you to that initial point, and then you have to think about, "What do we need to grow?". You kind of need to step outside of yourself and say "Forget about everything we've done to date, what does it mean to get three times bigger, or five times bigger, or what does it mean to have customers in different countries?" For the people that end up building the first app or the first site, what does it mean when that app has to service a million people? What skillsets don't you have?
P: What would you say are the three things that you say should think about when you start the interview process?
J: The first question is what have they built before? You definitely want to talk to someone who has built something analogous to what you are building. Have them point you to their portfolio so you can look at their sites and apps and play with them to see what works and what doesn't. The second part is about the network. If you are an entrepreneur and don't have a technology background, you can use your network to have people that understand technology help you figure out who the best person to hire is. The third part is on testing. If you're looking for an engineer, there are a lot of different logic tasks to test them with. For example, you can use things like HackerRank to have them visit the site and take a test to see how they score on different things.
P: I really appreciate you providing insights into how to build teams, I think three things that I'm going to walk away with and that I think other people will too are: one, the people who start the company might not be the same people that are going to build the company long-term; two, when you're looking for technical team members, you shouldn't necessarily look at the specific skills that they bring, but rather how they think and how they learn because the company is always going to be evolving; and finally three, the best answer wins. If this is something that we can apply to all of our businesses I think it's something that's going to benefit us all long-term.