Land Corporate Clients, Partners, and Investors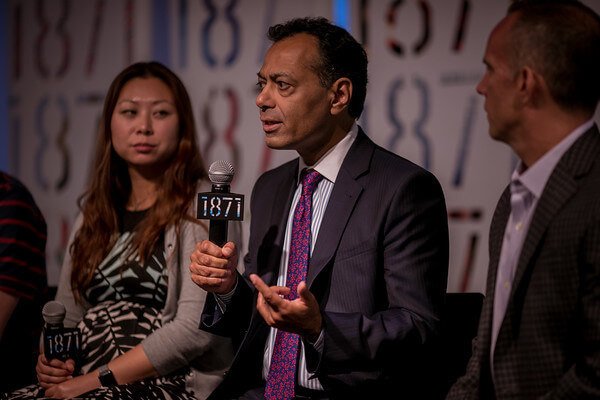 We launched the third program in our Entrepreneurial Education Series, "Fund Your Startup through Corporate Sales, Partners, and Investment" on September 21st with our partner 1871.
The event brought together experienced corporate investors Steve Garrou (Executive Vice President, Westcon), Reese Schroeder (Managing Director, Motorola Solutions Venture Capital), and Lily Yeung (Director of Corporate Development, Molex), the founder of Chicago's first unicorn exit, Jai Shekhawat (Founder, Fieldglass), and moderator Pete Wilkins (Managing Director, Hyde Park Angels) to discuss how entrepreneurs should approach corporate sales, partnerships, and investment.
If you missed the event or just want a quick recap, read on for highlights from the discussion.
Key Takeaways
The panel kicked off with a framework for thinking about building a business. Regardless of the industry, market, or customer, every entrepreneur has to remember one key idea according to Jai Shekhawat, "If you're going to fall in love with anything, let it be the problem. Not the product." Successful companies understand the problem and respond by developing solutions; they don't develop solutions and then frantically hunt for an applicable problem, or worse, try to force a solution on a problem that doesn't exist or doesn't need to be solved.
Finding the right audience is critical to this problem-finding process. As moderator Pete Wilkins stressed, "If you can figure out what a CEO is waking up in the middle night over and doesn't have a solution to, then you're onto a big problem." Look for the problems that affect decision-makers, and that will put you onto the path to success. Finding these problems can coincide with the sales, strategic partnerships, and corporate investment stages, or happen afterwards. Remaining inquisitive and problem-focused will help you in each of those examples.
"If you're going to fall in love with anything, let it be the problem. Not the product."
Click To Tweet
Sales

Sales is the lifeblood of your business. "Building a great business means you've got to sell some product," Pete Wilkins emphasized. As simple as it sounds, it's often overlooked or glossed over in the early stages of a business. All of the panelists shared how entrepreneurs get sales wrong when it comes to corporations, but each of their stories hinged on one key mistake: losing sight of the customer.
Jai Shekhawat warned against trying to sell to the wrong customer. For example, don't make the mistake of knowing that an enterprise-level company is your true customer, and still trying to sell to small and medium businesses to pay the bills or pick up some traction. Similarly, Reese Schroeder stressed that startups have to know the companies they're trying to sell to and really listen to their needs. Going in with all the answers and none of the research is a surefire way to lose.
In the end, Steve Garrou referred back to his own sales experience and how he manages his team to underscore the two most important questions founders need to ask during the sales process: "Who are our customers? And how can we help them be successful?"
Strategic Partnerships

Much of the same advice and logic the panelists outlined in their sales discussion applied to strategic partnerships. Ultimately, both sales and strategic partnerships are predicated on mutual understanding and the pursuit of shared benefit. The main difference is that a strategic partnership involves co-selling, going to market together, and doing business together more intimately.
Steve Garrou outlined what Westcon looks for in strategic partnerships, "We're always looking for companies that can be faster to market" and "help us get into new markets." In turn, those companies get the weight of a $7B company behind them, along with all of the relationships, infrastructure, and support that comes with it. Jai Shekhawat shared that Fieldglass grew through strategic partnerships, leveraging staffing firms to gain traction faster. This proved vital because "It's not the big that eat the small, it's the fast that eat the slow."
"It's not the big that eat the small, it's the fast that eat the slow."
Click To Tweet
Corporate Investment

On that same note, Jai drew the line between good strategic partners and bad corporate investors. Namely, staffing firms were invaluable partners, but would have detracted from the Fieldglass business model as investors by creating exclusivity agreements and cutting the company off from potential customers. This idea cropped up multiple times during the discussion: not all corporate investors are the same, and some simply do not make sense for your company.
Lily Yeung of Molex emphasized "If there is no alignment on the vision and strategy, you're better off to walk away." A good corporate investor shares the company's vision and wants to create as much potential for future success as possible. If you don't feel the investor understands what you want to do and why, that relationship will be fraught.
Of course, corporate investors may feel the same way, or as Lily pointed out, love your company but fail to find a connection between it and their overall corporate strategy. In that case, most corporate investors will leverage their extensive connections with other corporations to refer you. Consequently, you should never burn a bridge.
"If there is no alignment on the vision and strategy, you're better off to walk away."
Click To Tweet
But, let's say there is alignment between the corporate investors and you. You believe an investment will grow your company, produce returns for them, and result in a strong, healthy relationship. How do you stand out from the other companies playing in your space and gunning for investment?
Reese Schroeder had a number of recommendations that echoed comments from earlier in the discussion. Understand your customers, their needs and goals, and how your solution will solve them. Understand the corporate investors themselves and their own targeted strategies. Explain the mutual benefits and synergies between the organizations. Finally, "Talk about your competitors, know who they are, know why you're better, and know how to explain why."
Photo Credit: Greg Rothstein/1871