Why The University Of Illinois Is A Top College For Entrepreneurs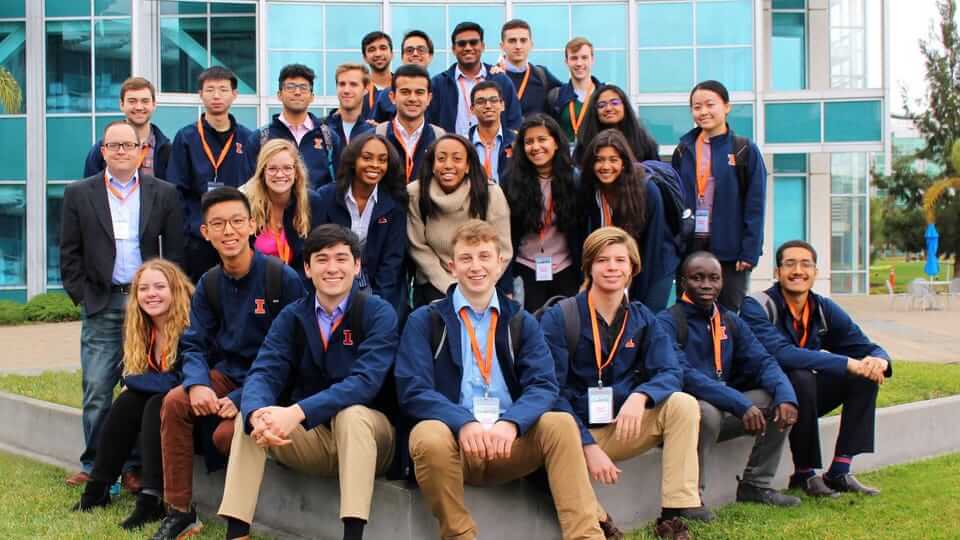 The University of Illinois has an incredible history of producing world-class startups and cutting-edge technologies. The university is also renowned for cultivating bright, purpose first entrepreneurs who are making a positive impact on the world. These innovators have founded companies that are among the most recognized brands around the globe.
The university's entrepreneurial ecosystem supports idea development with its programs, academics, and funding opportunities, and is consistently ranked among the top public universities for producing the most successful entrepreneurs. Pitchbook's 2021 university rankings highlighted the top 50 colleges for founders, and the University of Illinois ranked in the top 10 undergraduate programs in the United States.
Those ranks are impressive, but to provide some names to the numbers, simply look at this roster of all-star alumni who founded some of the best-known, world-changing companies, including:
Tesla: Founded by Martin Eberhard and Marc Tarpenning. Martin was a graduate of the University of Illinois at Urbana-Champaign (UIUC) with a bachelor's degree in electrical and computer engineering. Martin served as the CEO until 2008 and hired Tesla's first employees (i.e. Elon Musk, J.B. Straubel, and Ian Wright).
AMD: Advanced Micro Devices was founded by Jerry Sanders III, who graduated from the UIUC with a bachelor's degree in electrical engineering. Jerry incorporated AMD with seven of his friends from Fairchild Semiconductor.
YouTube: Founded by Jawed Karim, Steven Chen, and Chad Hurley in 2005. Jawed Karim (bachelor's degree in computer science) and Steven Chen (bachelor's degree in computer science) were graduates of UIUC.
Yelp: Founded by Russell Simmons and Jeremy Stoppelman in 2004. Russell graduated from UIUC in 1998 (bachelor's degree in computer science) and Jeremy graduated from UIUC in 1999 (bachelor's degree in computer engineering).
PayPal: Founded by Max Levchin, Luke Nosek, and Peter Thiel in 1998. Max Levchin (bachelor's in computer science) and Luke Nosek (bachelor's in computer engineering) were graduates of UIUC.
Oracle: Founded by Larry Ellison, Bob Miner, and Ed Oats in 1977. Larry Ellison attended UIUC in the 1960s. Bob Miner was a UIUC graduate (degree in mathematics).
PayPal co-founder, Max Levchin, went on to found Affirm, a now publicly traded financial technology company. He is joined by other alumni who started multiple Unicorns, like Al Goldstein, the founder of Avant and Amount (UIUC graduate, Gies College of Business). Newly minted unicorn ShipBob founder, Divey Gulati, graduated UIUC with a bachelor's degree in computer engineering and is also an MBA graduate. (Disclosure: ShipBob is an investment of my firm, HPA.)
This list goes on well beyond technology. It includes the founders of BET Network, Grainger, Pampered Chef, National Football League (NFL), Delta Air Lines, and many more. If you want to dig deeper into the rich entrepreneurial history of the University of Illinois, here's a great snapshot of the impressive companies founded by people who were, or are, part of the university.
Clearly, the University of Illinois has a great history, but what is happening now?
Recent activity highlights how the university continues to foster the development and growth of startups. With many of these companies recently receiving funding, here are some to watch:
You can understand why these entrepreneurs are successful when you look at how the university is a catalyst for innovations. Take a look at some of the groundbreaking programs the University of Illinois is involved in, such as Duality – the nation's first accelerator exclusively for quantum startups. The support for the world's leading quantum hub is amplified by other Illinois leaders including the Chicago Quantum, The University of Chicago, Polsky Center of Entrepreneurship, Argonne National Laboratory, and P33.
The University of Illinois is also committed to training scientists and engineers to push their promising ideas and technologies beyond the university and into the marketplace to benefit society. It has joined forces with other likemind institutions to turn those ideas into reality. The National Science Foundation (NSF) established the Great Lakes Innovation Corps (I-Corps) Hub last year. The University of Illinois Urbana-Champaign is co-leading the Hub, along with other leads including the University of Michigan, the University of Minnesota, and Purdue University. The 11-university Hub, headquartered at the University of Michigan, is one of five Hubs across the country that NSF announced in 2021 as it continues to evolve the I-Corps program. Students, faculty, and many others will benefit from these powerful Hubs that foster entrepreneurship and technology commercialization.
Another bold initiative of the University of Illinois system is the Discovery Partner Institute (DPI). It is led by the University of Illinois in partnership with other top research universities. DPI focuses on three core pillars: train people for in-demand tech jobs; fund and conduct applied R&D; and launch new businesses built on University of Illinois technology. With $10 million in funding from the Pritzker Foundation, DPI's Pritzker Tech Talent Labs are exposing high school students to college-level computer science courses and placing computer science apprentices at Fortune 500 companies, fostering strong career pathways to tech jobs. Another success according to DPI sources is the launch of a $100 million business that has saved lives. DPI supported the development of ShieldT3, which has run more than 4.6 million COVID-19 tests nationwide and served more than 450 customers. The covidSHIELD test developed by the company is a gold-standard PCR saliva test. Now, ShieldT3 is moving beyond Covid and is using its know-how to deploy rapid testing for the flu and other viruses. All of these initiatives build upon DPI's commitment to help build a strong economy through the equitable development of talent, companies, and opportunities for Chicago and Illinois.
The Duality Accelerator, Great Lakes I-Corps Hub, and Discovery Partner Institute demonstrates the University of Illinois' commitment to a collaborative approach to drive innovation. Their entrepreneurial ecosystem integrates national, regional, and Chicago-based partners to deliver results.
Given the breadth and depth of resources available on the University of Illinois at Urbana-Champaign campus, students, faculty, and almost any entrepreneur has what they need to launch and support a startup. Many entrepreneurs start at the Research Park, a leading technology hub that cultivates startups and accelerates corporate innovation. Located on campus, Research Park has more than 120 companies that employ students and full-time tech professionals. The tech hub aids in speeding up the innovation process through rapid application and prototype development. As a part of the Research Park community, EnterpriseWorks was built to help successfully launch early-stage tech companies. As a technology business incubator, EnterpriseWorks supports UIUC and community entrepreneurs in all stages of their startup journeys.
The Technology Entrepreneur Center (TEC) offers on-campus and online courses, venture and product competitions, workshops, and other extracurricular events that expose students to the concept of technology innovation. There are 5000+ participants in TEC's programs and academics annually. Notably, TEC administers the annual Cozad New Venture Challenge, which provides mentoring and workshops for teams on venture creation, idea validation, pitching skills, and customer development. Each year, more than $200,000 in cash and in-kind prizes are awarded to either existing student startups or teams that are just developing their startup ideas.
If you need help with funding, Illinois Ventures is a good place to start. The firm works with companies and technologies at the earliest stages of their development and offers proof of concept grants, seed funding, and venture capital. They are focused on businesses based on innovations from the University of Illinois and manage both return-focused venture funds and an evergreen fund for seed-stage tech startups.
It is evident that the University of Illinois has, is, and will continue to equip and empower students, faculty, and alumni as entrepreneurs and innovators in society. From the legacy of existing companies to the current rising startups, there is great opportunity for continued innovation. With access to incubators, academic programs, and strategic partnerships, UIUC works to build a stronger ecosystem for its school, the Midwest region, and beyond.
There is a great history, vibrant present, and outstanding future for current and incoming students. This is why the University of Illinois is a top destination for entrepreneurs.
---
Special thanks to the following individuals for their contributions to this article: Laura Appenzeller, University of Illinois Research Park, Executive Director, Assistant Vice Chancellor for Innovation. University of Illinois at Urbana-Champaign; Jed Taylor, Executive Director of the Technology Entrepreneur Center, University of Illinois at Urbana-Champaign; Michelle Rogoff and Cate LeSourd, HPA.
Originally featured in Forbes.