Chicago:Blend Spotlight Series: Option Pool Strategy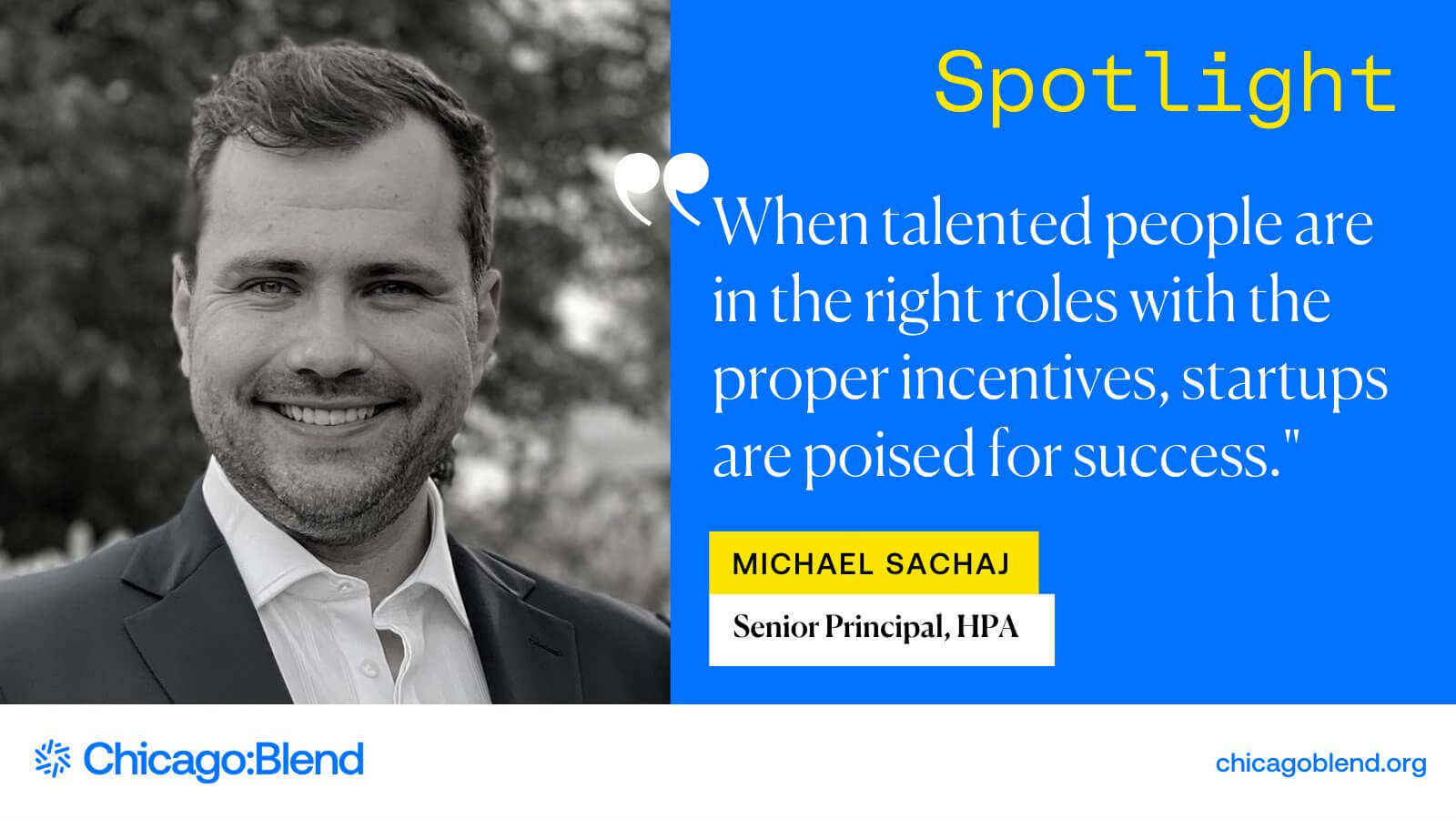 Developing a more equitable tech ecosystem through a purposeful option pool strategy
Originally featured on Chicago:Blend's Spotlight Series.
---
Highly motivated employees are a critical driver to support founders in the growth of the business. So how do you incentivize talent at a startup?
Teams are a critical component to business growth. When talented people are in the right roles with the proper incentives, startups are poised for success. Option pools help drive companies forward, which leads to better results for everyone involved.
First, let's address what options are. Options are the right for an employee to buy company shares at a fixed price.
With the unique hiring challenges faced by early-stage companies, employee options are offered to attract top talent. As a company's value grows, the value of employees' options also grows. This helps align employees' and company interests, fostering a stronger workplace culture, leading to greater employee retention, and resulting in a variety of other benefits.
Additionally, employee options can accelerate the benefits of company-led DEI efforts. Options can complement the benefits of diverse hiring practices and equitable compensation. Simply put, options create the opportunity for individuals to build personal wealth. By equitably sharing in the monetary benefits of building a successful company, options provide a pathway to financial independence, which can be especially empowering for women, non-binary, and other workers from underrepresented backgrounds.
With the clear incentive and equitable value of options, many founders want to maximize the benefits. However, there are some challenges we have seen that prevent them from doing so.
The following are the major problems we see today:
Lack of Best Practices: No standards have been created to help set a baseline for how many options to offer employees.
Employee Confusion: Many times, employees do not understand the future potential value of their shares, reducing the positive motivational aspects behind options.
Forfeiting Options: Employees who vest their shares and leave a company on good terms do not typically understand the process outlined in the agreement. The agreement sometimes specifies that an employee that is leaving the company will need to purchase their shares within a certain period of time of leaving the company. If the employee does not have the capital to purchase these shares, it creates a situation where the employee ends up forfeiting their shares.
So, what do we do to combat these challenges?
Based on our experience, we recommend creating a framework that is applicable regardless of the stage of the business. The framework would focus on driving consistency so that all employees would be treated fairly, reducing concerns of bias or process uncertainty.
For founders, we recommend thinking through your option pool allocation budget as you develop your hiring strategy with your investors. The framework should take into consideration your 18-24 month hiring plan and the different types of roles you plan to fill. You can start to create a range of how many shares you want to offer for each role.
As investors, we spend a lot of time working on budgets with our portfolio companies; similarly, this framework would provide a practical way to think about how to apply to current employees and future employees.
Whether you are a founder evaluating options for your employees, or an HR leader supporting companies with option strategy, there is opportunity to standardize this strategy to enhance a more equitable tech ecosystem in Chicago.
As a firm, HPA works to help our companies build a repeatable framework that provides an equitable way to provide options to their employee base. Together with our partner Chicago:Blend and other ecosystem supporters, we can drive the next stage of innovation with options.
To keep up with the latest Chicago VC insights and resources, sign up for HPA's monthly newsletter or follow us on LinkedIn or Twitter.
Originally featured on Chicago:Blend's Spotlight Series.